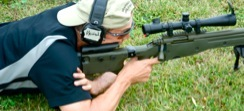 Kevin O'Neill
An avid shooter for recreational and self-defense purposes Kevin has trained with a wide variety of instructors on a variety of weapon platforms.
Instructors include Ken Hackathorn, Pat Rogers, Larry Vickers, Louis Awerbuck, Steve Tarani, Clint Smith, and Jeff Gonzales.  He has trained at Gunsite, Thunder Ranch, Rifles Only, Blackwater and at a great number of smaller facilities.  He has bought and sold Class 3 items over the past 10 years and enjoys collecting and studying these weapons.  He has found that the shooting community is a small one and that the key to obtaining a fine product is to meet, and develop relationships with, the right people within that world.
He is a practicing Anesthesiologist in Indianapolis, IN.
Teresa Conrad
"T" is an avid outdoors woman that makes HCS tic…always a smile and full of information!