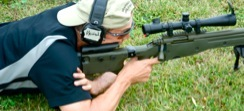 Kevin O'Neill
An avid shooter for recreational and self-defense purposes Kevin has trained with a wide variety of instructors on a variety of weapon platforms.
Instructors include Ken Hackathorn, Pat Rogers, Larry Vickers, Louis Awerbuck, Steve Tarani, Clint Smith, and Jeff Gonzales.  He has trained at Gunsite, Thunder Ranch, Rifles Only, Blackwater and at a great number of smaller facilities.  He has bought and sold Class 3 items over the past 10 years and enjoys collecting and studying these weapons.  He has found that the shooting community is a small one and that the key to obtaining a fine product is to meet, and develop relationships with, the right people within that world.
He is a practicing Anesthesiologist in Indianapolis, IN.
Alan Brown
Alan has been involved with firearms "forever".  Professionally he has been involved, to varying degrees, in the development, testing, and building of several weapon platforms for the United States Military.  This took place at his previous "day job" at Crane NAV/SEA, a major government facility in southern Indiana, where he worked in the Small Arms Division.  He also pursues his "outside job" to include the building of quality, highly accurate, tactical and hunting rifles.
Both of these gentlemen enjoy high quality, functional weapons and it is thru High Caliber Sales that they join together to build their current offerings.  They represent, and are, the right people.