Never been much for putting pictures of my rifles on the Internet, but it's different giving credit due, so you're welcome to put these on your site if you want. This is the coveted rifle in my shooting group. "That thing fuckin' works!" ....as they so eloquently put it.. haha  It's the truth. Thanks again.  C.L./SD
This is the best fu**ing upper I've ever had built!

I can't come up with any other comments for this upper. Seriously, nothing else comes to mind.  This RECCE upper build outshines my Colt/KAC upper build by leaps and bounds. That's an upper that I didn't skimp on either.

Thank you again Kevin for the outstanding work!

D.J./PA

Kevin and Alan,
I received my rifle on Saturday, and I would like to thank you both very much for working with me and for building my rifle to my standard and specifications. I know I've changed my mind several times along the way, however, you've demonstrated the highest quality customer service that a consumer could wish for. The rifle is 100% what I pictured and shows High Caliber Sale's craftsmanship that's unmatched by your competitors.
You have a life customer, and I will gladly without any doubt refer friends to High Caliber Sale's.
Semper Fi!
V.H./OH
Kevin, 
Thank you so much. MK13 came out amazing!  Did Alan end up using the Jewell trigger in it? (answer was -- yes…) I can't wait to shoot it on Friday!

Thanks! 
K.M./CA

Kevin,
Mod0 came today....  Oh my god! Simply beautiful.  I cant thank you enough for all the work you an Allen have done for me. High Caliber Sales is a top notch operation whose product is simply amazing.  You guys are the premier Mark 12 provider in the nation.  I called numerous SPR / Mark 12 providers and never even got a call back.  You called me within 20 minutes of my email and provided me with excellent authentic equipment at a fair price. I look forward to doing business with you in the future. If any of your customers need a reference please have them call me on my cell phone any time.  
A.E./VA
I think I learned more about ammo today than the gun.  HSM vs Black
Hills?  Clear winner.  I shot about 6 groups of each, both bigger 77gr
BTHP's.  At the end of the day, HSM grouped up at 1.11" and Black
Hills ran at 0.70"!  For day one with the gun plus my numb hands I am
pretty pumped about this.  The best HSM group was 0.83".  The best
Black Hills group was 0.45"!  I might not be hitting up HSM any
longer.  It might be too soon to say, but I think this gun can definitely
outshoot me and any other gun I have.  Pretty cool for a semi-auto
system."  Thanks for everything and good job on the upper.
D.P./TN
I appreciate your time and Allen's time and the fact that you both worked your asses off to address the issues I had. That definitely says a lot about you guys and your company. It is much appreciated! I will be recommending and continue recommending you guys to everyone I know who shoots and wants rifles like these................
I wanted to give you an update on the MK12…It is frickin awesome!!! I wish I was able to shoot better than what I do now. The rifle hasn't missed a beat.
D.J./GA 
WOW, what a rifle/scope/ammo system.  I
got it shooting some tight groups at 25 yds with some cheap Tula right away
and then broke out the BH red box for 100 yds.  Incredible groups, the best
I've ever shot.
F.G./OH
Good morning Kevin,
I was finally able to spend a day at the range. The rifle functions flawlessly. I can easily achieve sub-MOA with the 77 grain BlackHills ammo.
M.C./NC
Hi Kevin,
 Just a F.Y.I. my High Caliber Sales/ Crane Mk12 upper arrived today.  The fit and finish is excellent.  Thank you for the quick turn around time, great communication, and quality product.
S.Y./OH
"....I love this rifle like a warm woman!"  R.M./SLC, UT
Kevin,
The upper receiver and the scope have both arrived! They are works of art! I'm just waiting on my mount from Larue to arrive so that I can take it to the range.
T.S./CA
Kevin,
I took my rifle out with that new ammo I got from you (77gr BlkHills). Holy Crap!!! What a difference it made! I was able to keep 1/2" groups at 100 yards. I'm going to have to buy some more. I'm really happy with that rifle!
T.S./CA
I received the scope on Friday thank you!!!. After it was mounted I took it out and she performed beyond expectations.  T.F./CA
I was able to spend some time home on R&R during this deployment and was able to make it out to the range and shoot the Mk13 you built for me. It is an amazing rifle. Thank you for the hard work you put into it. I sighted in at 100 yds and off the bat it was shooting sub-MOA groups. Once I felt comfortable I was easily ringing a 16X24 steel plate at 400yds before the day was out. Again, thanks for building a superb rifle at an amazing price.   G.A/CA
I've had the chance to shoot the Mk12 this summer a few time (not as many as I'd like), esp with the suppressor on it.  Simply an incredable rifle/weapons system.  Very very accurate, most accurate rifle I've ever had the chance to own or shoot.  Minor POI shift when I attached the suppressor for the first time at 100 yds.  F.G./OH
We were shooting poppers and hanging targets. The 700 Yard 8"x 14" ( I believe that's correct, it's his baby silhouette) was like ringing a bell. I wanted to thank you for your customer service and selling such a great work.  A.S/KY
I just wanted to let you know that I couldn't be happier with the upper. I've taken it out 5 times so far and it just seems to get more accurate each time out, my wife even joys shooting the mk12. My best group has been just over a half inch, 1 inch groups are almost too easy. Thanks again for the great service and outstanding upper.  J.H/CA

Kevin,
 I received the Mk 12 upper and Nightforce scope last night and all I can say is WOW!  I just wanted to thank you for your awesome customer service and for an awesome product.  I will definitely recommend High Caliber Sales to my colleagues.  I will be contacting you in the future for some ammo and other accessories as funds come available.  Thanks again, can't wait to get it to the range.  JLR/TX
From Sniper' Hide by Lowlight re a MK12 build:
See High Caliber Sales on here... Kevin O'Neill, his Mk12s are built by AJ Brown who worked for Crane and built a lot of rifles there. 
Well I zeroed a Mk12 upper I got from him, and with Black Hills 75gr ammo I had, using a NF 2.5-10X24 scope the rifle shot a solid .5 MOA at 100 yards out of the gate. I zeroed it last week at Trigger Time an indoor range so I had to shoot it from their benches, which I hate bench shooting, but the gun was insanely accurate.
Also from the same thread:
Another plus 1 for High Caliber Sales. If not the full upper buy his Mk12 barrel. I did and I am very happy with it. Kevin is also a super nice guy. Pleasure to do business with.  (Salmonaxe)
Hi Kevin just figured I let you how pleased I am with the mk12 . It looks great and shoots even better. I 'll be giving you more business soon. thanks a lot.   D....
I got to run some rounds through the mod 0 this past weekend. Man dose this thing shoot nice. The irons were very easy to get on target. I used M855 to get on paper and then the 262 to fine tune. It took 5 five round groups to get the scope dialed in with 855. Two five round groups with 262 and I am good to go. I did not shoot for any groups because it was cold as heck but did put 15 rounds in a 2" circle at 100 yards sitting at a bench. I hate shooting from a bench, prefer prone. I know I and the rifle can do a lot better but it was freaking cold and I had a good wind from about 2 o clock. Can't wait for better weather to get this dialed in at longer ranges. R.R./OH
Kevin I received my upper yesterday and as of now I am 100 percent satisfied and see no reason to ever be less than satisfied. Thank you for an awesome upper and even better customer service. Keep it up.
Thank you.  J.T./IA
.....got to put 350 rds of 77gr through the mk12 today. A real hammer !..I was banging steel easily at 600 yards and very tight groups at 100 yards...good day..good day :))    G.F/CA
Thanks to HighCaliberSales.com for building the upper receiver, this rifle is shoots lasers and is reliable. Highly recommend anyone looking for a Mk. 12 clone.....   C.C/ID
....both shoot amazingly well with pretty much everything- one really likes federal GMM 77gr, and one really likes southwest ammo's 77gr mk262 clone

.......again kevin, couldn't be happier!!! K.K/WA

I just wanted to send you a thank-you note. I received the MK262 ammo and with the SPR barrel I bought from you earlier, I was able to hit my target at 930 yards. This is much farther than I've ever been able to shoot before. M.R./WA

Mark 12 upper looks and fits great…
Thanks for the fine craftsmanship and great customer service.  M.D./CO
Kevin,

 A few months ago I purchased one of your Mk12 MOD1 upper receivers.  I am totally thrilled with it's performance!  It's an absolute tack driver and every trip to the range with it is great.  I was also really pleased with your customer service too.  I'm actually writing because I'm interested in picking up some suppressors from you.   D.P/FL
Kevin,
Hi, you had built my Remington 700 into a Mk13 Mod 5 about a year ago and I love it.  G.A./CA
Kevin,
Got it, finally had a minute to check it out. Love it. Thank for putting this together, you guys do great work...B.H./WA
Kevin,

I used your MK12 to place second in the 3Mils Right match last weekend in Texas.
It was a laser and didn't skip a beat in the dusty Texas Hill Country.
Several bolt guns failed due to the dirt, but the MK12 held up to the end.
It shot bug hole groups with 77gr SMK's.

Thanks again.  Z.M/TX

Wanted to let you know that my scope came in and I was finally able to shoot my mk12.  It shoots great.  My little brother and I just shot  steel at 700 yards.  Only misses were the first two shots correcting wind/elevation.  Thanks again.  A.W./SC

Kevin,
I just wanted to send you a thank-you note. I received the MK262 ammo and with the SPR barrel I bought from you earlier, I was able to hit my target at 930 yards. This is much farther than I've ever been able to shoot before.
M.R./WA
Just wanted to drop you a line regarding the Knights lower I just purchased for my MK12 MOD 1 upper. Went to the range today and it performed flawlessly, my only regret is that I did not purchase sooner. The MK12 you built for me earlier this year is hands down my most accurate rifle. I did not think it was possible but with the Knights lower and two stage trigger I do notice a difference. I LOVE THIS RIFLE!!! Great job Kevin couldn't be happier. Been spreading your name around the gun range as I get questions about the rifle everytime I take it out. Would like to purchase MK18 upper around or just after Christmas

D.G./MI
Kevin,Just wanted to convey my sincere thanks. The mk12 Upper is simply, badass.  Now I just need to find the time to rock it..
R.C./CA

That's what I felt like when the FedEx guy showed up and I opened my three boxes.  The Mk12 with the KAC URX is gorgeous.  Thanks Kevin, I greatly appreciate my second HCS upper.

I'll be out shooting this weekend (and showing it off).

Thanks again -- C.J./AZ

Kevin,
 The new upper is awesome!!!!  It looks great, just ran some patches through the barrel. Getting it ready for the range tomorrow. Going to use some 55, 62, and 77 grain. Already have compact Eotech red dot for it. Plan to sight in the irons first and then mount the Eotech. Let you know how it goes. Once again thanks for everything, talk to you soon.
 D.G./MI
Kevin,

Just shot my rifle today and I must say that it is impressive. Shooting 1/2" 3 round groups at 100 yards with either 55gr or 77 gr black hills. My reloads did a little better going hole for hole! I forgot to take a picture but plan to take it out again this week! Also, I shot with my friend Justin that you assembled a mark 4 block 2 and it functioned flawlessly as well. Thank you again for building my mk12 for me and keeping me informed every step. You guys build the best AR platform rifles around. I am including a picture of mine and hope to have my trust done soon so I can get that suppressor for it! Thanks again,

R.G./WA
Kevin,Thanks one more time for the rifle. I took it to my nearest range (hour and 15 min away) to shoot it for about 2 hours to get it sighted in (had work). I brought my .338 as well, but had no desire to shoot it. I was a little rusty as its been awhile since I last made it out, but you and Alan have truly made me my dream rifle. Once I got back into it, the rifle was shooting 1 hole groups with mk 248 mod 1 ammo and the same with southwests 220 gr match. I'm a very satisfied customer. It was definitely worth the wait!

Until the next build,
K.M./CA

Kevin,
All I can say is unbelievable!
Can you put me down for a replacement barrel and more ammo please?
J.R/IL
Kevin,
 I am out in Wyoming right now hunting and got an antelope at about 300 meters with the MK12 yesterday. Incredible pin point accuracy I couldn't be happier with it.thanks, hope all is well.

J.G./IN
Approximately 1 year ago HCS built me two upper assemblies for my AR-15. I wanted to write you back now that I've been shooting them for a little over a year and express my satisfaction and gratitude.
We've had many shooting opportunities this last year. Almost every weekend we've been shooting at either a range or out in the desert. we've gone through quite a bit of ammo that was earlier in the year very difficult to buy. I've shit a wide range of ammo from different manufactures, anything but steel or hybrid cased ammo (personal preference not to shoot steel case out of my long guns).
Mk12: there is no doubt this upper is far more accurate than my shooting abilities. I'm shooting about 1/2" MOA with a YHM 7.62ti Phantom Suppressor and off a Harris bi-pod. Black Hills 5.56 77g (the commercial Mk262 rounds) produce a muzzle velocity of 2785FPS suppressed (@ 96 degrees F, 27.48inHg, 15% humidity) and my Applied Ballistics software tells me they'll stay supersonic until about 875M (which I can attest the software is very accurate & trued). This upper compliments my LWRC lower and is absolutely one of the more accurate weapons I've ever shot.
Mk18 w/ KAC QDSS NT4 Suppressor: I've fired more rounds through my Mk18 than all my other weapons combined. My Mk18 has given me and my son quite a bit of fun over the last year. I've shot plenty of SBRs and I admidt that my HCS Mk18's accuracy is very impressive and out shoots several 16" factory AR 15s. I know that doesn't sound possible and arrogant +my apologies). I've out shot several friends and borrowed their ARs to make sure its not the shooter.
I've also mounted everything from an Aimpoint T-1, EoTech, ACOG, and recently a Bushnell HDMR shooting clay pigeons at over 350M. My Mk18 has become my go to gun for home protection with my EoTech and KAC suppressor. I shoot my Mk18 every shooting trip and almost every weekend this last year. Additionally, it has become the most popular weapon in my circle of shooter that everyone wants to shoot "C***'s Mk18".
I've had no reliability issues on either upper. Including running the guns hot from the suppressors out in the Arizona desert.  both uppers have had zero issues and remain 100% reliable. No bolts have come loose, no rounds failed because of the uppers, no issues whatsoever with HCS quality and or workmanship.
I've now had them a year and wanted to share with you that I've been using both uppers and that I remain very satisfied with both builds. Thanks again for both uppers,and thank you for all the fun I've had shooting them over the last year.
Hope you and your family are doing well. My best regards,
C.J./AZ
Hey Kevin,
Wanted to write first to say how pleased I am with my Mk 12 Mod 1!  Its been almost a year since I purchased the upper from you, but now I'm up and running.  I have been to the range a few times and haven't had any feeding or brake-in problems with any of the ammo/mag combos I've tried.  I've attached a few pics of the rifle and what it will do with that BH 77gr OTM ammo.  Hope all is well and that you again for your time and the wonderful work y'all have done for me!
Hi Kevin this is DS, got my mk12 done and is working great! Thanks for everything! I will definitely be doing more business with you sir!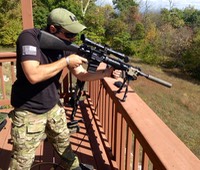 Sir just wanted to say thanks for helping me earlier this year purchase a MK12 Mod 1 upper. I was the guy who was deployed and bought it as a redeployment gift to myself.

I put it on top if a Colt M4 marked lower and dropped a Geissele SSA trigger inside. I also topped it off with the Nightforce 2.5-10 scope so it's about as close as I could get to keeping it true to SOCOM specs. 

It is an amazing rifle with incredible accuracy and thought I'd share a pic of it with y'all. 

Have a great weekend and thanks for the great build.

V/r

T
Hey Kevin. Just wanted to let you know that the Mk 18 upper you guys sent me is running flawlessly with everything I feed it, from Mk 262 to Wolf. It is really a great gun to shoot and I have a lot of confidence in it.
Thanks again,
Mac
Not sure if I ever sent you a completed picture of it, but the mod 1 was all the parts from you. Love it. By far my favorite stick in my safe.
Kevin,
Got out yesterday and took the upper you guys did for me. NO issues, no FTF, FTE. Performed great. Had a blast and looking forward to getting the stamp back. Just wnted to update you guys. 
Thanks again for the work, Hope you all had a great 4th. 
Stay Safe, God bless. 

B.W
Kevin,
I finally received my Form 4 from the ATF and picked up my Mk 18 last Wed 07/01. WOW!  What an awesome rifle! 
I am looking forward to a trip to the range to try it out.
Regards,
M.B
Hey Kevin,      
Picked her up today. Looks absolutely amazing and I couldn't be happier. Haven't been this excited for rifle in a long time. Just ordered up some 77gr and hoping to go break her in next weekend. Still feel like something's missing though.... Going to be in touch before long to pick up an AEM5. Should put the icing on the cake. Thanks again for everything! I'll be in touch 

B.S
Upper arrived in perfect shape yesterday. Beautiful work, flawless. (Not that I am an expert or anything) but thanks a ton! I love it!

C.M.
I received the upper today and I am beyond pleased! It is absolutely beautiful! 
Thank you so much for dealing with my questions and getting me set up with exactly what I wanted. I cant say enough how much I appreciate the personal customer service you provide. The product is of course the best as well. I will be recommending you to all of my friends and anyone else in the market for a Mk12.
Off to the range to get her sighted in.

K.H.
I received the upper today and I am very impressed with the quality and workmanship of your product. It's awesome!  Thank you for the great customer service and fine quality.  I look forward to getting to the range very soon.

S.K
O MY GOD!! Just pick up my package and open it and I swear a bright light smack me in my face. Gentleman you guys are a artist!! I can't wait to take this out and get some pics for you guys. And you included a bi-pod Thank you, Thank you, Thank you!!

T.W.
A couple pics for you. I'm REALLY happy I bought this barrel from you, it's sweet! I've shot through a box of black hills 77 gr and it's been holding at just under 1" for 5-shot groups. And I think it's cleaning up a bit, the first couple groups were about 1.1-1.2", so maybe I'll see it get even better. I've also got plans to develop some hand loads for it to see if I can get any more accuracy out of it.
You'll probably hear from me again, I obviously need a can for this and I also feel like I need to build a Mod 0.  
W.W./ID
Here's a pic of the sopmod. That turned out great. Slapped an eotech I had on another AR and right off the bat it was a tack driver on center, wish I had picks of one of the targets. Couldn't be happier.
J.M/MD