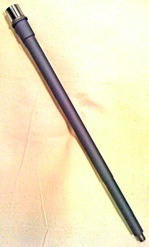 We now have Douglas MK12 barrels available.  These barrels come from the same machines and the same people that make the military MK12 barrels for SOCOM.   Priced at $440.00 plus shipping ($25). More coming every 2-3 weeks; email to get on my contact list if you'd like one...
SPECS:
Material: 416R Stainless
Barrel extension: M4 feed ramps
Chamber: optimized for use with MK262 (Black Hills 77gr equivalent)
Twist: 1 in 7 right hand
Contour: for use with OPS Inc brake/collar assembly
Length: 18 in and threaded 1/2x28 
Weight: 2 lbs 6.3 oz
***Recommend gunsmith installation
 *WE ALSO HAVE SOME OF OUR 16" RECCE BARRELS FOR SALE -- same availability/pricing as the MK12 barrels (also contoured for OPS brake and collar) — backordered — email me to be contacted when barrels are in hand*

OpsInc 12th Model suppressors and 12th model Brakes/collars unavailable. Allen Engineering AEM5 Supp @ $650.00 + SHIPPING ($20)  More on order all the time….please check back or contact to be notified.  These are near the same as OpsInc which is currently out of business.  Allen Eng is the company that manufactured all of Ops' suppressors.
FULL LINE OF ALLEN ENGINEERING SUPPRESSORS ARE UNAVAILABLE (Asolutely the finest suppressors available) — "click" the suppressor name for a direct link to AEM's description.
1.  AEM4:   $675.00
2.  AEM3:   $625.00
3.  AEM2:  $575.00
4.  AEM22:   $669.00
5.  AEM30:   $699.00

Black Hills 5.56 ammo -- as issued to the military as MK262 -- 77gr SMK.  Newly released as factory "firsts"…  $550/case 500; by the box is also available.  Just email for out the door pricing and shipping costs.  I need to order this for you and delivery is dependent upon BlkHills Manufacturing schedule.
Also immediately available are Harris bipods, KAC buis's, KAC bipod rail mount, KAC rail sling adapter, PRI gas-buster charging handles.  Email for pricing/to order.


308 SMK BTHP ammo. These new manufacture 175 grain MATCH loads produce an impressive 2600 fps.  Email for pricing.  AVAILABLE as of 6/20/2016.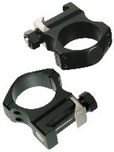 NightForce rings -- ultralight and steel available as well as rails and Unimount.

Attention!
You must be 18 or older to order rifle ammunition and 21 or older to order handgun ammunition. Ordering ammunition from High Caliber Sales, LLC indicates that you are of legal age to purchase and posses ammunition, and that there are no other laws, ordinances or policies that would prohibit you from doing so.  Check local laws before ordering.
We will not ship orders with ammunition to the following locations:
ALASKA
CALIFORNIA- Counties of Napa and San Francisco. Cities of Los Angeles, Oakland, and San Francisco. 
HAWAII 
ILLINOIS 
MASSACHUSETTS 
NEW JERSEY 
NEW YORK 
WASHINGTON DC 
PUERTO RICO/GUAM