PLEASE NOTE THAT THIS UPPER WILL REQUIRE THAT YOUR LOWER BE NFA REGISTERED AS A SHORT BARRELED RIFLE  -- ALL NFA RULES APPLY.
The MK18 MOD0 is issued on an M16 select fire lower minus the Aimpoint T-1 optic as pictured, above.
Design your MK18 from the following options.
Please note that each of these options is a custom built item; the options, below, are possibilities.  If you would like some other combination of accessories, or  parts added or deleted, please contact us for a quote.

Shipping and insurance are additional.
Mk18 MOD0 PRICING:
OPTION 1    @      $1325.00
    -- Standard flattop upper receiver; 1/7 chrome-lined barrel and chamber

    -- AR15 bolt carrier and MPI inspected bolt from Young Manuf.

    -- PRI Gasbuster charging handle

    -- LMT tactical adjustable rear sight

    -- LMT 10.5" barrel
    -- KAC M4 RIS rail hand guard

    -- Std. "bird cage" flash hider

    OPTION 2    @      $1465.00

    Add KAC QD flash hider to Option 1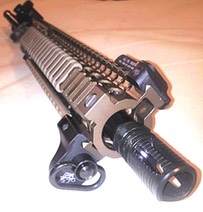 The use of additional rail mounted equipment found the KAC rail platform lacking in space.  This led to the developmnet of the MK18 MOD1.  
DanDef has stopped offering the DE MK18 rail commercially so this build is no longer available.