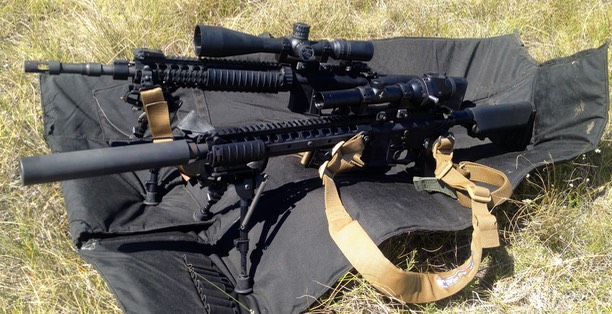 THE RECCE RIFLE IS IN THE FOREGROUND WITH OPS 12TH SUPPRESSOR ATTACHED

High Caliber's new Recce rifle....

This was an internet thread started by a friend -- I did not think I could say it all much better so, with his permission, I've used it to describe our 16" barreld RECCE model.....

If there ever was a "real" Recce rifle, this one is it.  Here are a couple of reasons why I feel this is the real life embodiment of the Crane Recce rifle:

1.) At it's core it uses a Douglas barrel. For those that don't know, the Douglas barrels are the actual ones currently used and bought by SOCOM for the MK 12 rifles.  The ones HCS receives are identical to the ones that currently go into the MK12s and are made on the same machines by the same people.  This fact alone makes their MK12 and now Recce rifle very unique, extremely rare, and super true to form. 
2.) The gentlemen who make up the HCS outfit:

Kevin Oneill much like myself, is a true student of these rifles and is extremely passionate about learning and understanding all there is to know about them.  I would consider him easily to be one of the foremost experts on the MK12 and Recce rifles currently.  His commitment to building these rifles as closely to their original specs and designs, and then making them avail. for U.S. civies for purchase is a huge part of what makes these couple of uppers/rifles unique and special.

Alan Brown is the actual gunsmith at HCS and he brings to the table a 20+ yr career of service with NSWC Crane in small arms development(weapons prototype shop).  He was actually involved in the design, development, and testing of many of the weapons that are now so popular like the MK12, MK13, MK18, SCAR, and now the Recce rifle concept that spun from the original Special Purpose Receiver program. Along with those weapons, he also worked to develop Mk262 ammo.

The reason I'm posting this is totally on my own behalf, as many already know I'm extremely passionate about these particular types of rifles.  In a world where the term SPR, MK12, and certainly Recce get thrown around so generically, the HCS uppers/rifles are a huge fresh breath of air as they are bringing legitimacy to these particular rifles and their original designs and specs that I have grown to love so much.  Essentially they are defining the terms that are so often misused not only by individuals but even major manufactures as well.  There are indeed actual roots, designs, and specs behind the terms SPR, MK12, and Recce, contrary to what some may believe. Kevin and Alan at HCS are bringing those actual designs, and specs to bear in their current MK12 and Recce offerings and I truly believe this should be applauded and respected by the AR community. 

I will include a quote from Kevin that I received in an email reply after asking permission to share his Recce and company details with M4C that I believe sums up exactly what I think is so very unique and special about the uppers/rifles they offer....

"We are very interested in continuing to honor the programs developed while Alan was at Crane.  He learned a lot on Uncle Sam's dime -- studies were done that we could never afford to duplicate and that info goes into what he builds.  We wish to continue to apply those lessons to anything else we add our name to." 

So in summery, if your ever interested in owning either a Recce or MK12 rifle in the future, I strongly recommend seriously considering the uppers/rifles of High Caliber Sales, they are extremely nice and approachable, and very much willing to listen to the customer's needs and wants in a future rifle.  Unlike buying a rifle from a major outfit like LMT, KAC, BCM, Colt, Noveske, etc., with HCS you get one on one attention from Kevin, and you can be assured your rifle is being built methodically by hand by arguably the person who knows best how to build these particular types of rifles.

Note: They will make small changes per individual customer request like use different muzzle devices depending on what the customer needs are.  So while much of the below spec list is what makes up every HCS Recce upper, they can be tailored to each individual's specific needs.

SPECS:

Specs -- mil spec receiver; Young Manufacturing bcg; PRI gasbuster CH; Douglas premium stainless barrel with 1:7 twist 16" length; barrel ext with M4 feed ramps;  low profile gas blk; mid length gas tube from LMT; AEM5 model collar and brake; ORIGINALLY BUILT WITHKAC URX3.1 rail with integral front buis — NO LONGER AVAILABLE.  Rail choice is yours…I can build the upper to you liking depending upon parts availability.

PRICING:

$1620.00 as described above.  Shipping and insurance is $40.00.

Note, again that custom building to your desires is available -- just call or email to discuss.