Offering a variety of configurations of the MK12 and MK18 battle platforms ranging from the basic upper to the complete package including optic, suppressor, bipod, and accessories.
10/08/2020: Long time since a true update — HCS has been continuing to build MK12 uppers as parts are available.  I recently acquired some MK12 contoured barrels in Hornady's new 6ARC caliber.  I can build you a MK12 that utilizes this new round with AE brake and collar that will be appropriate.
05/30/2014 update and really cool news — good friend of High Caliber, Larry Vickers (vickerstactical.com), invited us out for an interview on his youtube video series: I think Alan did a great job in the interview while I worked away …here in Indy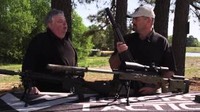 We are out of DanDef MK18 rails and do they not seem to be available commercially anymore — so, MK18 MOD1's are no longer available(unless you  have one to send us…).
High Caliber Sales is a Title 1 and Title 2 dealer who can provide you the very best, tried and proven, weapon systems and components.  
We possess a unique insight into the original request for the development of, and the refinement of, the MK12 and MK18 SOCOM platforms.  
Our initial offerings are the MK12 MOD1 (or the Mod0) SPR and MK18 MOD0 carbine uppers.  These uppers are manufactured to mil specs using the same manufacturers and contractors as used by Crane Nav/Sea in southern Indiana.  Assembly  is performed by an individual integrally involved in both the design of these weapons and their construction.
As of 9/13/2010 we are offering the 300 win-mag MK13 Mod5 rifle as issued out of Crane Nav/Sea.
In late 2012 we began building Block 1.5 and Block 2 M4 14.5" uppers by special order.  Similarly, other custom built to your order uppers are available by arrangement.
Select accessories, including signature reduction devices, are available and these options are the same components as tested and evaluated for use on the Crane offerings.
You can rest assured that what you are purchasing is the equivalent of what the US Armed Forces are fielding.
We are dealers for Aimpoint, Nightforce optics, Knights Armament Company, Ops Inc., Gemtech, Lewis Machine and Tool, PRI, Blue Force Gear, and Harris bipods.